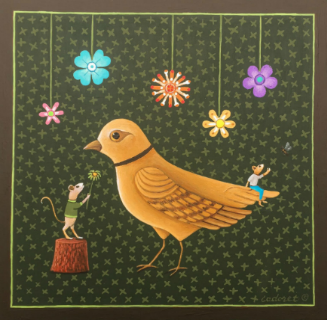 I have been telling stories in paint for 45 years. My paintings, rendered in fine detail and saturated colors, are a part of important public and private collections in the United States, Canada, and Europe. These vibrant story paintings have been exhibited in many galleries and public spaces, including the Clinton White House, Newport Art Museum, the Cahoon Museum of American Art, Frank Miele Gallery in New York City, Gallery Americana in Houston, Francesca Fine Art in Lexington, MA, and le Musee D'Art Naif in Montreal. For a more comprehensive listing, please visit my Collections page.
As an artist, I am fortunate to be able to paint nearly every day of the year. From our small home studio, we look out over our beautiful perennial gardens bordered by a classic New England stonewall, lovingly created by my wife Johanna. Beyond that is a salt water bay, which provides me with solitude and an abundance of inspiration. Although I grew up in rural Central Massachusetts, I now make my home with Johanna in the Ocean State and her passion for children and teaching kindergarten is a another key source of inspiration for my story paintings.


If there's a story you've always wanted told in paint, please contact me and see if we can work together to make one of your dreams come true.