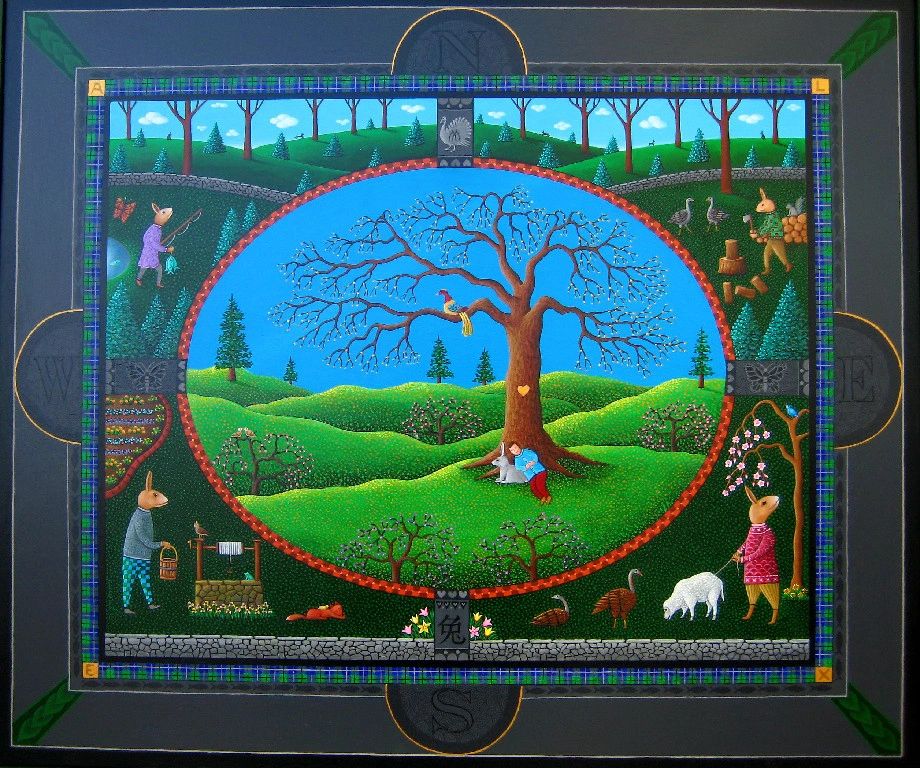 Telling my Own Story
The first painting that I remember completing was exhibited in 1972 and from that point on I can't recall a time when I didn't have a paint brush or pencil in my hand. I carried this passion through grade school, into high school and off to Springfield College, where I graduated from in 1982 with a non-art degree. Perhaps I was too stubborn, impatient or self conscious to take art instruction. I decided early on that I really enjoyed painting my own way, telling stories with acrylic paint. And, I found that my ability to interpret different stories, in my own painterly style, were of interest to many friends and collectors.

As a result, in 40 years, my style has evolved to be more detailed and color specific, in a way that is consistent with my original passion for telling stories in paint. Thousands of paintings later, I've become comfortable with referring to my style as Story Painting. Collectors and museums, though, seem to better understand my work by qualifying it as folk painting, illustrative, self-taught or naive art. I'm not offended. All art is personal and it's imperative to me that I personalize my work in a way that speaks to the heart of the viewer and the artist.

My story paintings are included in many important public and private collections around the United States, Canada and Europe. They have been exhibited in many galleries, museums and public spaces, including the Clinton White House, the Cahoon Museum of American Art, the Newport Art Museum, le Musee D'Art Naif in Montreal, the State House in Boston, Hancock Shaker Museum, the Frank Miele Gallery in New York City, Gallery Americana in Houston and most recently the Art Stable Gallery in Westport, MA and the Black Sheep Gallery in Nova Scotia and Toronto.

I am a founding board member, and vice president of marketing for South Coast Artists, a non-profit organization promoting art, education and the artists in the south coast region towns of Tiverton and Little Compton, RI, and Dartmouth and Westport, MA. Each summer we open the doors to our studios in July and August. This year is our 12th annual SCA Open Studio Tour, scheduled for the weekends of July 18-19 and August 15-16, from 11-5. Beyond that, my studio is open to the public by appointment.

Of recent note is a painting depicting the Lincoln Park Carousel and Battleship Cove in Fall River, MA. It was the central work in an exhibit at the museum, that was also a very successful fundraiser Battleship Cove. I have also produced paintings benefiting the Cahoon Museum of American Art, the Little Compton Historical Society, Newport Art Museum, the Pilgrim Society and Museum, the Heritage Vineyard program at the University of California Davis, Rhode Island PBS, and other educational arts programs across the country.